Youth
Youth Rosh Hashanah Program
Youth
We have a vibrant community with many young families and children. Youth groups and programs are available for children of all ages, under the able leadership of our Youth Director, Rabbi Avi Fried and his excellent staff.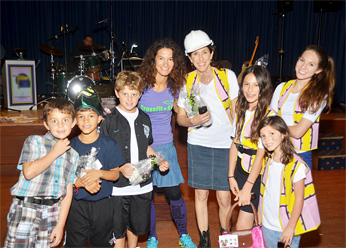 Listing of Our Regularly Scheduled Groups
Shabbos 10:00-11:30
Belinda and Mishi are the wonderful counselors for our toddler room, ages 2-4.

Mommies and daddies are welcome to join in for circle time, parsha lessons, and playtime.

Rivky is the counselor for the 5-7 year old group.

In this group children sing along with davening, enjoy story time, and group games.

Tamar is the counselor for the 8-9 year olds.

They also spend time on prayer, lessons and enjoy the game room.

Jesse leads the Jr. Minyan, ages 10-13.

This group is designed to help older children transition into the main minyan; juniors participate in the torah reading and mussaf prayer, and play sports at the nearby park.
Aside from snacks during groups there is also a Kiddie Kiddush, providing kids with a full lunch meal.
Rosh Chodesh Party
Once a month we have Rosh Chodesh Party. It is Shabbos afternoon during shalosh seudos. Kids of all ages participate in games, stories, and prizes. Dinner is provided.
Arts & Crafts
Every other Wednesday from 5:30-6:30, we have wonderful Jewish arts and crafts program run by Mishi. Children of all ages learn about upcoming holidays and participate in experiential learning targeting multiple modalities. Pizza is served.
Holidays
Additionally we have programs for each Jewish holiday. Newsletter and flyers are mailed out regularly and posted online. If you would like to be added to the Youth Program mailing list, please email Yakira at admin@yibh.org.
BMC + TLI
We are currently developing Bar and Bat Mitzva Clubs, as well as a Teen Leadership Initiative.
Stay in Touch with the YIBH Youth Team

Any questions or comments can be directed to yakira@yicbh.org.
Wed, December 11 2019
13 Kislev 5780
Calendar
Today's Calendar
Shacharis

: 7:00a
2nd Minyan

: 8:00a
Mincha

: 5:15p
---
This week's Torah portion is

Parshas Vayishlach
Candle Lighting
Havdalah
Motzei Shabbos, Dec 14, 6:16p
Shabbos Mevarchim
View Calendar
Wed, December 11 2019 13 Kislev 5780